Celebrating 162 years of wood tank fabrication and erection!
Company History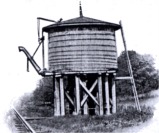 Hall-Woolford Tank Company was established in 1854. Considered leaders in our industry, our goal is to continue manufacturing, servicing, installing and inspecting wooden tanks the way it has always been meant; with care, quality and craftsmanship. Our firm employs only the very best. Muliti-generations of tank builders are still with us today.
Producing high volume of tanks per year, our yard is continuously being replenished with the highest quality tank stock lumber. Particular attention is focused on raw material to meet rigid specifications. Experienced craftsman select the right material

to meet each customers needs. Although wood tanks all look the same when new, the quality of the lumber will determine the longevity. At Hall-Woolford, a special relationship with lumber suppliers has been forged. They understand our devotion to customer's needs, and have satisfied our commitment to providing only the finest lumber for each and every application. We've lasted the test of time because our customers come first!
The actual motion works from 4Hz and it has no more than
replica watches sale
forty five several hours associated with energy book. Whilst nevertheless fundamental, the
replica watches
actual motion includes a high degree of completing like what you need to anticipate from the
replica watches uk
. Probably the most fascinating aspects of putting on the Nautilus may be the band. Remarkably slim as well as comfy, the
breitling replica sale
actual band includes a really distinctive type of
fake rolex sale
completing in addition to a good unusual deployant hold design that is made to end up being fairly get rid of along with all of those other band. Within flower precious metal, the
rolex replica sale
is quite unique through metal variations from the Nautilus.

5500 N. Water Street � Box 2755 ਩ladelphia, PA 19120
Ph: 215.329.9022 æ¡? 215.329.1177 å­¡il: jackhillman@woodtank.com
1854-2016 - Celebrating 162 years of wood tank fabrication and erection!
㯰yright 2016 All rights reserved. Hall-Woolford Tank Company