Celebrating 162 years of wood tank fabrication and erection!
The Wood Tank Advantage
Wooden tanks are made in any size. They are non-corrosive, long lasting, and require very little maintenance. They usually out perform other types of material because of the nature of the decay resistant material used. Typically cylindrical, other shapes such as oval (elliptical), rectangular, half round can be made. They are usually shipped knocked down and erected on site. This makes the wood tank desirable for applications where delivery and installation is difficult. Erection is easily accomplished with minimal down time. Our crews can usually install a tank in 1 to 3 days time, depending on size, site conditions, and accessibility. Larger tanks will require more time. Various industries use wooden tanks and have benefited with their low initial cost compared to other types of tanks. Long service life means less down time for replacement. From old railroad tanks to newly constructed hi-rise buildings the advantage of the wood tank has proven to be the choice for those who know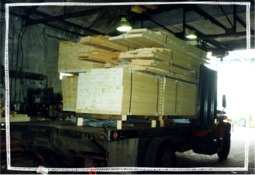 5500 N. Water Street � Box 2755 ਩ladelphia, PA 19120
Ph: 215.329.9022 æ¡? 215.329.1177 å­¡il: jackhillman@woodtank.com
I've recorded more than four hundred classic Panerai
replica watches sale
, and so i really feel during the period of the following many years, I will precisely submit all of
replica watches
them through developing a extremely visible on the
rolex replica sale
internet taxonomy upon Perezcope.com. Once I feel the major work is done, I will certainly focus on other brands. The actual records associated with
hublot replica sale
online auctions homes are perfect, as well as basidialy, these people let me period journey. The actual public sale homes provide pictures of the
rolex replica sale
in a particular instant. We started to discover exactly how particular
fake rolex sale
transformed look in one public sale to another, or even the way the dial of the replica Panerai sale all of a sudden reappeared within an additional research a couple of years later on.
1854-2016 - Celebrating 162 years of wood tank fabrication and erection!
㯰yright 2016 All rights reserved. Hall-Woolford Tank Company