Celebrating 162 years of wood tank fabrication and erection!
The Wood Tank Advantage
Wooden tanks are made in any size. They are non-corrosive, long lasting, and require very little maintenance. They usually out perform other types of material because of the nature of the decay resistant material used. Typically cylindrical, other shapes such as oval (elliptical), rectangular, half round can be made. They are usually shipped knocked down and erected on site. This makes the wood tank desirable for applications where delivery and installation is difficult. Erection is easily accomplished with minimal down time. Our crews can usually install a tank in 1 to 3 days time, depending on size, site conditions, and accessibility. Larger tanks will require more time. Various industries use wooden tanks and have benefited with their low initial cost compared to other types of tanks. Long service life means less down time for replacement. From old railroad tanks to newly constructed hi-rise buildings the advantage of the wood tank has proven to be the choice for those who know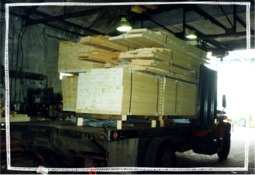 The Dion of the blue dial is won by replica watches uk its special dial color and rare quantity. It also is equipped with the rolex watches Zenith based El-Primero movement based on fake rolex watches improved cal.4030 automatic winding movement, this movement plays an important role in the replica watches history of Rolex.
5500 N. Water Street ி Box 2755 ਩ladelphia, PA 19120
Ph: 215.329.9022 桿 215.329.1177 孡il: jackhillman@woodtank.com
1854-2016 - Celebrating 162 years of wood tank fabrication and erection!
㯰yright 2016 All rights reserved. Hall-Woolford Tank Company